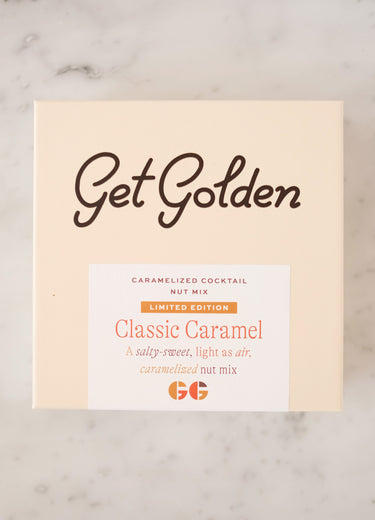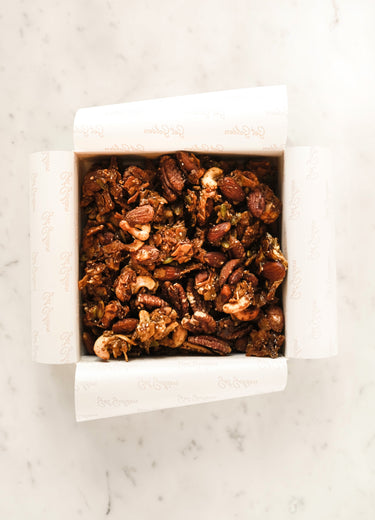 Holiday Nut Mix (limited edition)
The inspiration for this launch is very near and dear to my heart as it felt like we were tying everything together. Many moons ago, my grandmother took me to New York City Ballet's The Nutcracker. I remember the experience vividly, from the golden curtain, to the magic of live performance. Even the intermission where they sold little candies and boxes of nut mix…the whole evening made me fall in love with ballet and the theater.

Since launching GG, I have always wanted to create a nut mix based on this memory. Meet Get Golden's Holiday Nut Mix. A festive, salty-sweet celebratory blend of our favorites made with our turmeric coconut butter caramel. Think light as air, nuts and coconut caramelized to perfection. 

Stock up, this item is limited edition!
With love,
Jenelle
- gluten-free
- vegan
- refined sugar free   
 INGREDIENTS: Almond, Pecan, Cashew, Pumpkin Seed, Coconut, Chia Seed, Sesame Sesame, Coconut Butter, Olive Oil, Maple Syrup, Turmeric, Salt.                                          
*Due to high volume of orders, please allow 3-4 days for your order to process
Reviews

•

Reviews

•

Reviews

•

Reviews

•
Reviews

•

Reviews

•

Reviews

•

Reviews

•
Reviews

•

Reviews

•

Reviews

•

Reviews

•
Reviews

•

Reviews

•

Reviews

•

Reviews

•